You know those rainstorms that are wind, rain, thunder, lightning and everything in between.  You can't see where you are. Speeding up can lead to uncontrollable hydroplaning. Even familiar routes are difficult to travel to.
Doesn't that sound like life?
The storms of life can throw us for a loop. A friend once said people are either in a storm, about to enter a storm, or have left a storm.  We all have a storm.
It is easy to succumb to the storm and fall into despair. I have had my fair shares of storms. It feels unbearable.
The Lord is near to the brokenhearted and saves the crushed in spirit. Many are the afflictions of the righteous, but the Lord delivers him out of them all. He keeps all his bones; not one of them is broken.-Psalm 34:17-20
Though it is easy to throw in the towel, DON'T!
Though it storms, the rain will stop, the clouds will appear, the loud clashing of lightning and thunder will be silenced, and then sunlight.
For every rainstorm, there is sunshine.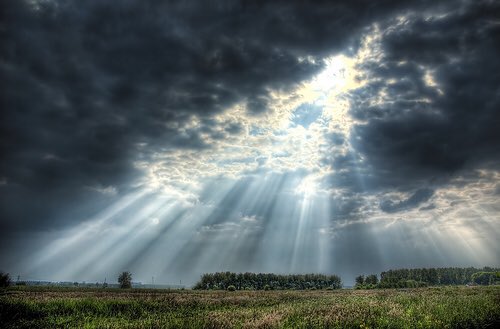 With any storm, God can overcome it. Jesus silenced the winds and the storms at His command (Matthew 8:23-27). Nothing is too hard for God.
What you and I cannot do is control our situations. Sometimes life is out of our reach. Things happen that are unexpected, from left field,  unplanned, and abrupt. And sometimes with as much preparation you do, you still fall short. But God can and is in control. 
With the storm, there is provision, safety, and sanity that God provides. He does not lead you where He will not provide for you. He knows what you can handle even though you think you can't handle it.
And my God will supply every need of yours according to his riches in glory in Christ Jesus.-Philippians 4:19
God will bring you out of the storm into the sunshine. I can't assure that life will be exactly what you expected but all storms will strengthen you and your testimony.
So hold on even though it's raining, God will give you the umbrella (i.e. provision) and the direction.
I leave with this: But he said to me, "My grace is sufficient for you, for my power is made perfect in weakness." Therefore I will boast all the more gladly of my weaknesses, so that the power of Christ may rest upon me.-2 Corinthians 12:9
Wherever you fall short, God will fill in the gaps.
The storm is temporary.
It will pass.
God will bring you out of whatever tried to end you or break you. 
The sunshine will come. 
Blissfully,
Bianca